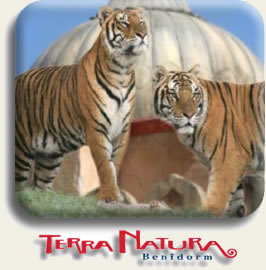 CONSULT ALL THE LATEST OFFERS
CLICK ON TICKETS HERE.
Also available combined tickets for Aqua Natura & Terra Natura, family packs and "All Inclusive" tickets.

ENTRANCE TICKETS FOR TERRA NATURA .
Terra Natura is a new-generation wildlife park where you can discover the "Zooimmersion" experience – a new concept in habitat design which will enable you to come into contact with the animals as if there were no barriers between you – at least, no visible ones! The 320,000 square metres of the Benidorm park are divided into four themed areas: Pangea, the entrance to the park, America and Asia
At Terra Natura Benidorm you can see more than 1,500 animals from 200 different species, 50 of which are in serious danger of extinction, and over 2,500 examples of more than 160 species of trees, shrubs and ground cover plants from these regions. As well as the hugely varied collection of wildlife, our educational information (through placards with biological details and information points), the architectural theming and the range of shows, entertainment and adventure activities make Terra Natura the venue of choice for families looking to spend an interesting and entertaining day in a natural setting.